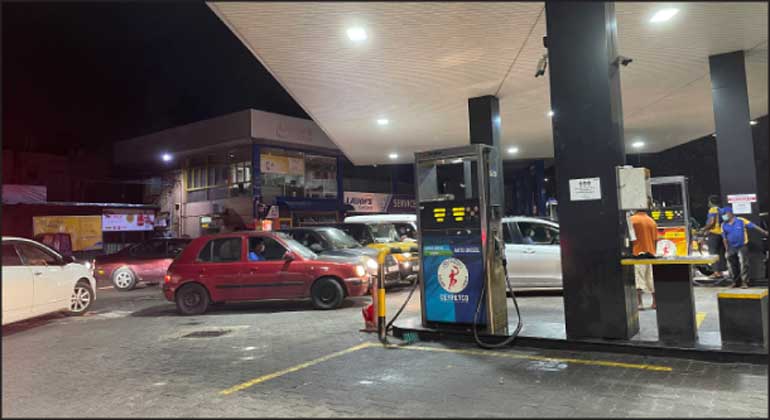 Despite travel restrictions, motorists rushed before midnight to fuel sheds to top up their tanks ahead of the price hike. Here, motorists at the LAUGFS 24-hour station at Koswatte whilst some of the 24×7 outlets of CPC and Lanka IOC, including the latter's flagship at Colombo 7, were conveniently kept closed to make a quick gain later on, much to the  disappointment of their regular customers
Sharp hikes in fuel prices across the board announced with immediate effect
Move set to aggravate rising cost of living amidst pandemic but will help fiscal management
PM-chaired Cabinet Sub Committee on Cost of Living decides to revise fuel prices upwards
Cabraal says Govt. can no longer subsidise fuel when global prices have spiked
Claims fuel price wasn't revised for 21 months to give people relief
Says selling at lower rates than import cost has led to $ 331 m loss to CPC by 2020
However Finance Ministry data proves otherwise
Thanks to lower import cost and unchanged retail prices in 2020, CPC made operational profit of Rs. 34 b against loss of Rs. 19 b; net profit Rs. 2.37 b
Previous losses had substantial negative impact on CPC balance sheet
Outstanding dues from various SOEs amounted to Rs. 140 b, impacting CPC liquidity
Govt. supported CPC operations by issuing Treasury guarantee worth $ 1.8 b as collateral to secure funding from 2 State banks
SL's fuel bill shrank by 37% to $ 2.5 b in 2020 from 2019
The Government yesterday increased fuel prices sharply, the first hike in 21 months, in a move that will help improve fiscal management but shoot up the cost of living amidst the worsening COVID-19 pandemic.
Petrol Octane 92 is up by Rs. 20 per litre to Rs. 157, Octane 95 by Rs. 23 to Rs. 184, Auto Diesel by Rs. 7 to Rs. 111, Super Diesel by Rs. 12 to 144 and the poor man's fuel kerosene oil by Rs. 7 to Rs 77.
The hike effective midnight came after the Government earlier in the day said a decision had been made to increase but it revealed neither a quantum nor a date at the time.
Analysts opined the move made economic and institutional sense although it would further aggravate the rise in cost of living amidst the worsening pandemic.
The Cabinet Sub Committee on Cost of Living following its June meeting yesterday decided to revise the fuel prices.
At a media briefing, State Minister Nivard Cabraal presented what he considered a compelling case on why fuel prices needed to be revised upwards.
Addressing journalists, Money, Capital Markets and Public Enterprises Reform State Minister Cabraal said that whilst the Government recognised the plight of people owing to the rise in the cost of living, the country could no longer sell fuel at a heavily subsidised low rate.
"In order to give relief to the people, fuel prices were unchanged for over 20 months, which is historic," Cabraal said. "However, the Government can no longer continue without revising prices," he added.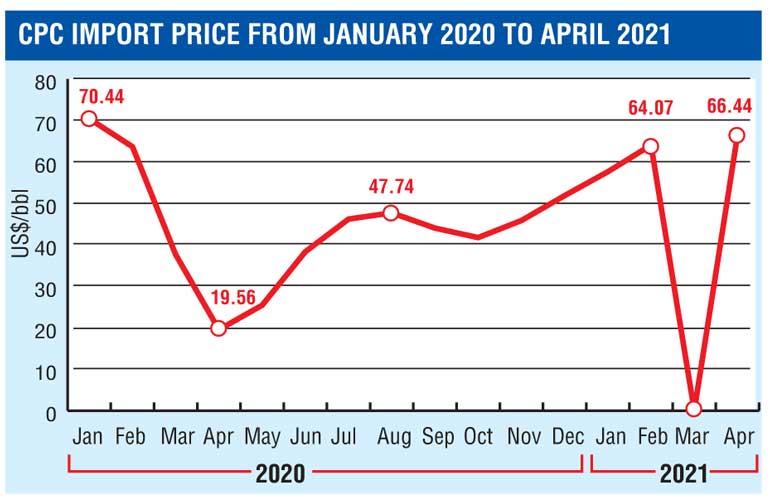 The State Minister revealed that by not adjusting fuel prices in line with spikes globally, losses at Ceylon Petroleum Corporation (CPC) had increased to $ 300 million by 2020. "CPC is facing a serious financial situation by not being able to service its debt," Cabraal said.
According to him, Sri Lanka spent $ 3 billion last year on fuel imports despite several key foreign exchange earnings industries such as tourism being impacted owing to COVID-19. It was in this context that the Cabinet Sub Committee on Cost of Living decided to revise the fuel prices.
The last revision of petrol and diesel prices was on 10 September 2019.
Though Cabraal claimed a higher cost of imports, lower prices in 2020 in fact helped Sri Lanka to reduce its fuel import bill by 34.7% to $ 2.5 billion according to the Finance Ministry from $ 3.78 billion in 2019. The Ministry said the reduction was mainly due to low international fuel prices and declined demand for fuel in line with the travel restrictions.
As per Central Bank data, CPC import price (CIF) of fuel was $ 66.44 per barrel in April, a sharp rise compared to $ 19.56 a year ago. In January 2021 the cost was $ 57.65 per barrel. The whole of last year CPC cost ranged from $ 19.03 in April to a high of $ 51.89 per barrel in December 2020.
Finance Ministry sources said Brent crude oil increased from $ 31.4 bbl in the second quarter of 2020 to $ 42.7 bbl and $ 44.5 bbl in the third and fourth quarters of 2020, respectively. In 2021, crude oil prices reached a high of $ 70 bbl in mid-March 2021 before dropping back to $ 63 bbl in early April 2021.
As per Central Bank data futures prices of Brent so far this year has been between a low of $ 54.85 per barrel in January to a high of $ 68.24 in May. In 2020, it ranged from a low of $ 26.46 in April to a high of $ 64.28 in January. Between June and December last year, however, it was mostly between $ 36.67 and $ 46.82 per barrel.
According to the Finance Ministry, lower prices CPC also saw improvement in its financial position, contrary to Cabraal's assertion yesterday.
The Finance Ministry's 2020 Annual Report said CPC was able to record an operational profit of Rs. 34 billion in 2020 compared to the operational loss of Rs. 19 billion in 2019 due to the maintained fixed retail prices while the international oil price reached its historically lowest level.
The CPC recorded a net profit of Rs. 2.37 billion in 2020 after absorbing a Rs. 22 billion exchange rate variation and Rs. 21 billion finance cost. "However, CPC's previous losses have had a substantial negative impact on its balance sheet," the Finance Ministry said.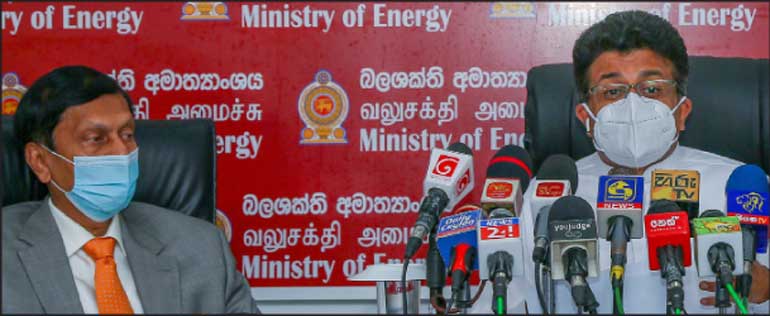 Energy Minister Udaya Gammanpila (right) with Money, Capital Market and Public Enterprise Reform State Minister Nivard Cabraal at yesterday's media briefing
The outstanding dues from various State-Owned Enterprises amounted to Rs. 140.2 billion, mainly from Ceylon Electricity Board and SriLankan Airlines at the end of 2020 and this had badly affected the liquidity of CPC.
The Government supported CPC operations by issuing a Treasury guarantee amounting to $ 1.8 billion as collateral to secure the credit facilities from the two State banks, the Finance Ministry said.
In its May meeting, the Sub-Committee chaired by Prime Minister Mahinda Rajapaksa also discussed the rapid increase in fuel prices in the world market compared to 2019 and 2020.
In a statement post-meeting, the Prime Minister›s Office said that during the meeting the Ministers expressed their views on maintaining the relief for the people in the face of the situation that had arisen in view of the huge increase in the global fuel prices in 2021 relative to the years 2019 and 2020.
It was revealed at this meeting that a number of State institutions including the Ceylon Electricity Board were still repaying loans to the Ceylon Petroleum Corporation for the year 2019.
It was disclosed that under the fuel price stabilisation with the intervention of the Ministry of Finance last year, the CPC had been paid Rs. 50 billion but another Rs. 79 billion was yet to be received.
Accordingly, the daily loss incurred by the CPC has increased significantly. At present the Ceylon Electricity Board is incurring a loss of around Rs. 10 per unit for providing subsidised electricity to consumers as a relief measure, the Prime Minister's Office statement added.