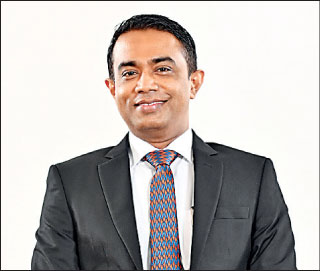 HNBA Chief Executive Officer Lasitha Wimalaratne 
HNBGI Chief Executive Officer Sithumina Jayasundara
---
Fitch Ratings has maintained 'A+ (lka)' National Insurer Financial Strength (IFS) Ratings of HNB Assurance PLC (HNBA) and its fully owned subsidiary HNB General Insurance Ltd (HNBGI). 
Fitch Ratings confirmed the ratings of the two companies in a statement published recently continuing their 'A+ (lka)' rating with Rating Watch Negative.
The communiqué of the acclaimed rating agency, Fitch Ratings notes, 'Fitch regards the insurers' company profiles as 'Favourable' compared to other insurers in Sri Lanka because of a 'Favourable' business profile and 'Moderate/Favourable' corporate governance. HNBA and HNBGI have substantive business franchises that benefit from an association with the group's parent, Hatton National Bank PLC (HNB, AA-(lka)/RWN) – one of the largest private commercial banks in the country – with whom they share the 'HNB' brand name'.
HNBA Chief Executive Officer Lasitha Wimalaratne said: "During the past two years we have faced a number of challenges and setbacks. However, in response to these unprecedented challenges, HNBA adapted several responsive and agile business strategies and as a result, today, we are stronger than ever. 
"HNBA opted to be rated by Fitch Ratings for its insurer financial strength, investment portfolio, strong risk profile and good governance and the fact that we have been able to maintain our rating at this turbulent time augurs well for the stability of the company and its future growth trajectory. HNBA stands resilient, confident and affirmed of our journey and what's ahead."
HNBGI Chief Executive Officer Sithumina Jayasundara said: "This well-earned confirmation comes at a time of economic uncertainty, and we are delighted to have our Fitch Rating maintained at A+ (lka). As the country navigates through these challenging times, general insurers too have faced a number of operational challenges coupled with restrictions which limits the growth potential of businesses. 
"In this backdrop, a commendable rating of this nature further demonstrates HNBGI's strong financial footing relative to industry competition and will continue to leverage our footprint, capital and product offerings to deliver a strong performance. This rating will offer continued reaffirmation to all customers and stakeholders of strength and stability of the company, and we will continue to be by their side, especially during these challenging times."
HNB Assurance (HNBA) is one of the fastest growing Insurance Companies in Sri Lanka with a network of 64 branches. HNBA is a Life Insurance company with a rating of 'A+' (lka) by Fitch Ratings Lanka for 'National Insurer Financial Strength Rating'. Following the introduction of the segregation rules by the Insurance Regulator, HNB General Insurance Ltd (HNBGI) was created and commenced its operations in January 2015; HNBGI continues to specialise in motor, non-motor and Takaful insurance solutions and is a fully owned subsidiary of HNB Assurance. 
HNB General Insurance has been assigned a 'National Insurer Financial Strength Rating' of 'A+' (lka) by Fitch Ratings Lanka Ltd. HNBA and HNBGI are rated within the Top 100 brands and Top 100 companies in Sri Lanka by LMD and HNB Assurance has won international awards for Brand Excellence, Digital Marketing and HR Excellence including the Great Place To Work Certification. HNB Assurance was awarded the Best Bancassurance Service Provider in Sri Lanka by Global Banking and Finance Review and has won many awards for its Annual Reports at award ceremonies organised by the Institute of Chartered Accountants of Sri Lanka.