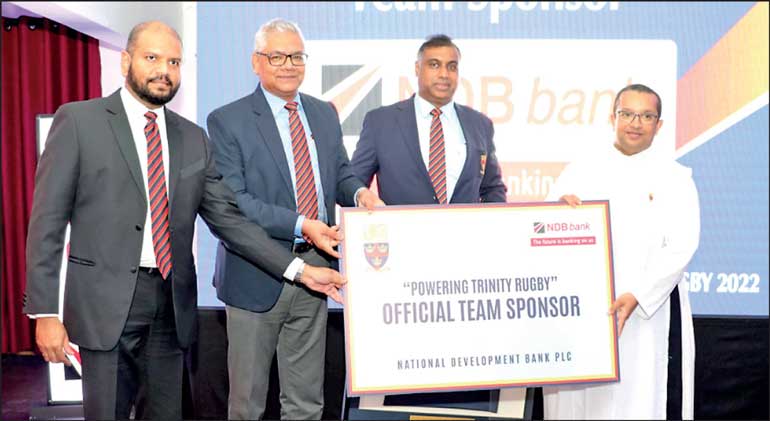 NDB Bank becomes the official Team Sponsor for Trinity Rugby 
---
As part of its efforts to empower the development of sports as a responsible local bank with its roots in the community, NDB Bank has partnered with Trinity Rugby once again as the official team sponsor for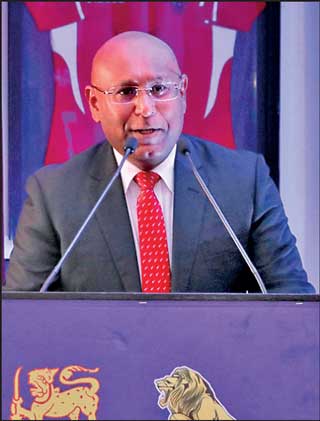 NDB Bank CEO Dimantha Seneviratne addresses the gathering at the official press briefing
Trinity College for the 2022 season. The Bank also signed up as this year's official event partner for the Bradby Shield.
Trinity College recently hosted a sponsor felicitation evening at the CR&FC. Addressing those present, NDB Chief Executive Officer Dimantha Seneviratne stated that NDB Bank is excited to join hands with Trinity and the Bradby Shield once again.
"After a two year disruption, it will be good to see the schools rugby season recommencing and to have audiences back at the matches, and we at NDB look forward to continuing our association with Trinity College initiated back in 2020," he said, adding: "NDB has taken the strategic initiative of sponsoring significant sporting events over the past few years in order to foster the development of sports amongst future generations to inculcate good values and discipline."
The association covers the full schools Rugby season and extends to the Bradby Shield games (both legs) scheduled for August/September of this year.
Trinity College led by Lithmal Moragoda will play their first Segment A Group One inter-school league rugby match against St. Thomas College on 25 June at Pallekele.NDB Bank was awarded the "Best Bank in Sri Lanka 2022" for the second consecutive year by Global Finance Magazine USA and "Best Digital Bank 2021" at the Asiamoney Best Bank Awards for Sri Lanka in addition to being named the "Most Awarded Corporate 2021" as per LMD ranking. NDB is the 4th largest listed bank in Sri Lanka and the parent company is the NDB Group. The only financial services conglomerate in Sri Lanka, NDB Group is uniquely positioned towards assisting the growth and development of the Sri Lankan financial market to provide its customers seamless access to the product and service offerings of all its group companies.