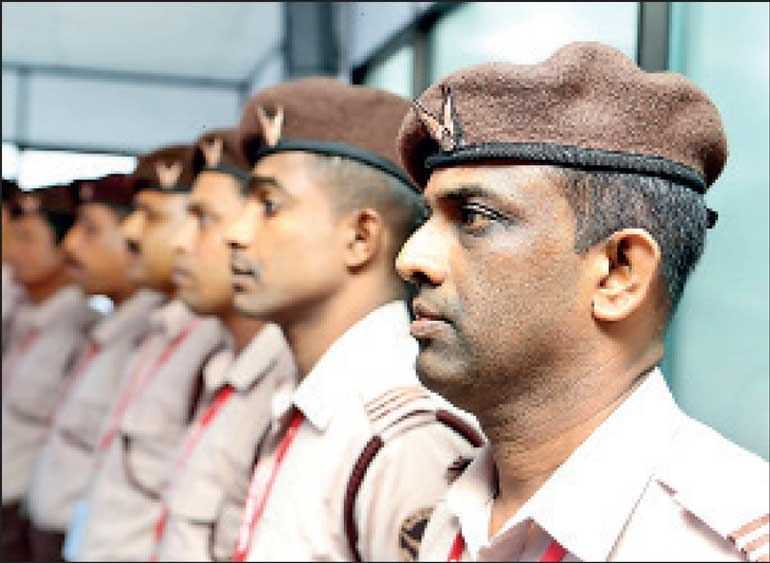 In the face of COVID-19, today the commitment of a security officer is beyond everyone's expectations
---
By Gavesh Ginige
---
Today with the present pandemic situation, a private security officer is a more vulnerable person. But no one talks about him and his duties. 
He is the person to be the first contact with a customer. He checks the temperature, provides hand sanitiser, opens the doors and sometimes registers the customer details as well. He never knows whether the customer is affected or not but still he has to follow the procedures other than the daily routine security duties entrusted to him. 
Today the commitment of a security officer is beyond everyone's expectations. Sometimes they have no time to eat or to drink a glass of water. With today's scenario and the imposition of travel restrictions they are facing many difficulties to report to work. They may not have their own mode of transport, but the only solution is to walk up to the point, by walking a couple of kilometres. Still there are restrictions, obstacles, threats, and harassments from law-and-order control bodies. 
They also need to understand these security officers too are assisting them in safeguarding some properties and the human bodies where police or military could not do due to their national commitment. 
Today we request the governing body to consider them on a priority basis list and to vaccinate them and their families considering the life threat. Most security officers are in one place for more than three to four days or beyond due to this pandemic situation without going to their home because of the vulnerability and the avoiding contacting another. They perform their duties with minimum of daily food intake without having proper meals.
We earnestly request all governing bodies, clients to recognise their services and give them self-respect too. Treat them as human. Lastly, we thank the relevant authorities that recognise private security services too as an essential service to the country at this moment.
---
(The writer is Chairman of Eagle Security Services.)
---