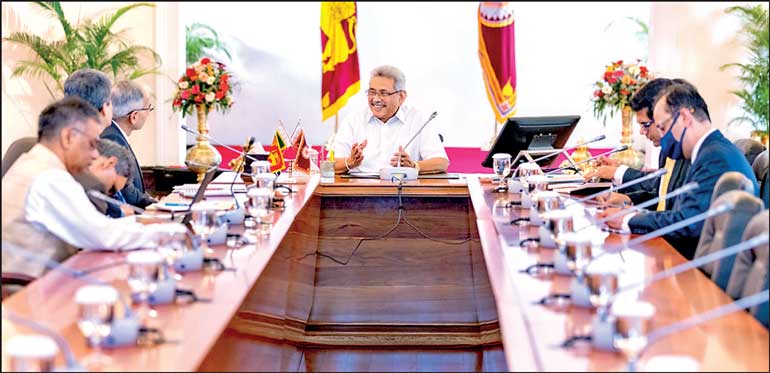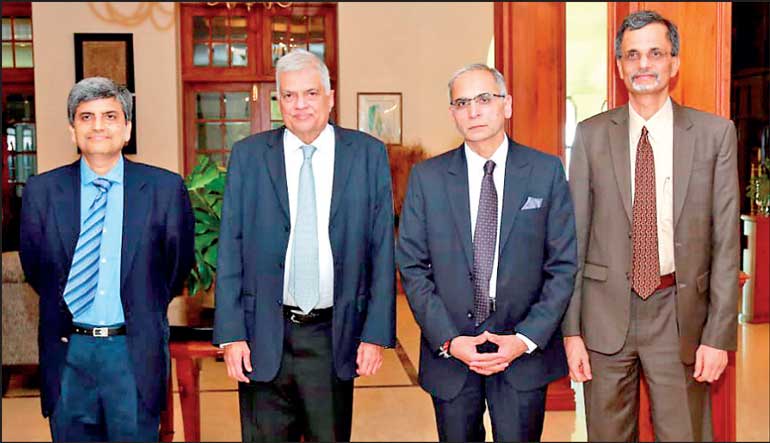 ---
Officials delegation led by Foreign Secretary Vinay Kwatra holds talks with President and Prime Minister as SL seeks nearly $ 1 b additional financing 
President and PM's offices say India assures fullest support to resolve Lankan crisis
Promoting India-Sri Lanka investment partnership including in the fields of infrastructure, connectivity, renewable energy and deepening economic linkages between the two countries discussed
Indian team underscores unprecedented recent economic, financial and humanitarian assistance of over $ 3.5 b to SL guided by 'Neighbourhood First' policy and Security and Growth for All in South Asia 
Sri Lanka yesterday made a compelling case for more Indian support to come out of the worst economic crisis though the response from the giant neighbour wasn't over enthusiastic but will be given due consideration, the Daily FT learns. 
A high-powered official delegation from India led by its Foreign Secretary Vinay Kwatra met President Gotabaya Rajapaksa, Prime Minister Ranil Wickremesinghe and Foreign Secretary Aruni Wijewardena.
Wickremesinghe on Wednesday told Parliament India's recent assistance was $ 4 billion whilst Indian High Commission put it as over $ 3.5 billion. 
Daily FT learns that multiple-crisis-hit Sri Lanka is seeking around $ 800 million more ($ 500 million for fuel and $ 300 million for other essential goods) from India but has responded by saying it will consider.
Nevertheless, the Media Office of President Rajapaksa in a statement said the Government of India will extend its fullest support in overcoming the current difficult situation as a close friend. It quoted the Indian Foreign Secretary having assured to this effect during a meeting with President.  
The Indian delegation comprising Secretary, Department of Economic Affairs Ajay Seth, Chief Economic Advisor Dr. V. Anantha Nageswaran and Kartik Pande, Joint Secretary, Indian Ocean Region, Ministry of External Affairs arrived yesterday to consider further financial assistance to Sri Lanka. Indian High Commissioner to Sri Lanka Gopal Baglay and Deputy High Commissioner Vinod K Jacob also joined bilateral talks. 
President's Media said Sri Lanka has already received essential food items, fuel, medicine and fertilizer under the Indian credit line facility. The Indian delegation stated that the Government of India and the political authorities are committed to provide continued support to Sri Lanka.
On behalf of the government and the people of Sri Lanka, the President conveyed his gratitude to the Government of India for its significant role in assisting Sri Lanka in difficult times. 
Both parties discussed the future course of action of the Indian aid programme to stabilize and revive the Sri Lankan economy, at length. The delegation also expressed confidence that the country would recover soon overcoming existing challenges.
Post meeting Premier Wickremesinghe tweeted that he looks forward to stronger bilateral ties with India. 
The Indian High Commission in its statement said the delegation had meetings with President Rajapaksa  and Premier Wickremasinghe and talks between the two sides were held in a frank, cordial and constructive manner.
The Indian delegation underscored that the unprecedented recent economic, financial and humanitarian assistance of over $ 3.5 billion to the people of Sri Lanka was guided by 'Neighbourhood First' policy and Security and Growth for All in the Region (SAGAR) vision of Prime Shri Minister Narendra Modi.
During the call on President Rajapaksa, the Indian side thanked the President of Sri Lanka for his commitment to the development of India-Sri Lanka bilateral relations. Both sides had a productive exchange of views on the current economic situation in Sri Lanka as well as India's ongoing support. In the meeting with Wickremansinghe, the two sides had an in-depth discussion on the Sri Lankan economy and efforts undertaken by the Government of Sri Lanka towards achieving economic recovery. In this context, both sides highlighted the importance of promoting India-Sri Lanka investment partnership including in the fields of infrastructure, connectivity, renewable energy and deepening economic linkages between the two countries.
India's Foreign Secretary of India also had a separate meeting with his Sri Lankan counterpart, Ambassador Aruni Wijewardena. They agreed to work in close coordination towards strengthening diplomatic engagement and undertaking a bilateral visit at an early date. 
The Sri Lankan side appreciated the consistent support of the Government and people of India over the past few years in a variety of fields such as counter-terrorism, maritime security, disaster management, humanitarian assistance, development cooperation, commercial engagement and people-to-people ties.
Sri Lankan side also welcomed the support extended by India during the meetings at the IMF in March this year and on subsequent occasions in different forums including regional and plurilateral organisations. They further acknowledged the initiatives taken by the Indian leadership in encouraging other countries to support Sri Lanka in dealing with the post-COVID normalisation of economic activity.  
Development assistance extended by India stands at over $ 5 billion with over $600 million being in grants, which include the Sri Lanka Unique Digital Identity Project. India continues to be the largest source of tourism for Sri Lanka.