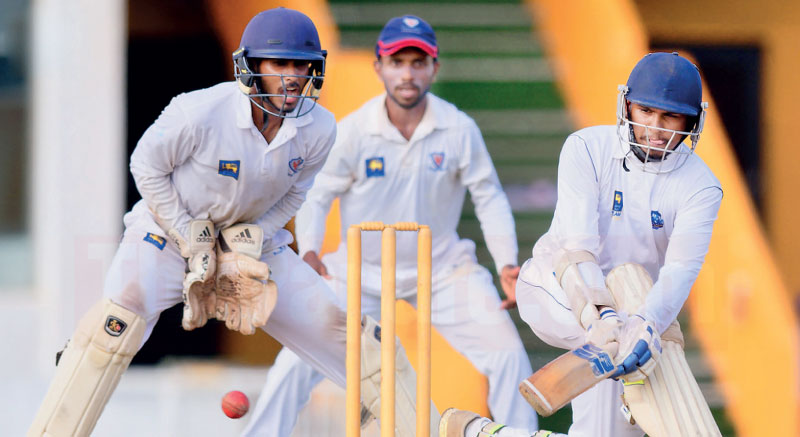 An SLC Major League 3-day inter-club tournament match in progress
---
After a year of COVID-19
Relegation of teams commences from this season
---
By Sa'adi Thawfeeq
---
The much looked forward to SLC Major League three-day inter-club tournament resumes today after a break of one year due to the COVID-19 pandemic with a full card of 12 matches at venues in Colombo and the outstations.
This first-class tournament which features 26 clubs in two groups of 13 each will see the competition of a higher quality because from this domestic season (2022) the relegation process starts where the last two teams from each group will be relegated to play in a lower tier for the Governor's trophy, the following year.
This process will continue for the next two seasons 2023 and 2024 as well. In 2023 four teams from both groups will be relegated and in 2024 three teams will be relegated so that there will be only 15 clubs playing in the Major League from the 2025 season. The whole idea of this relegation is to reduce the number of clubs playing first-class cricket so as to make it more competitive and meaningful.
Currently with 26 clubs in the fray, the standard of first-class cricket in Sri Lanka has been reduced to a farce, with several matches finishing inside two days and the players not getting the type of competition they deserve to play international cricket at the highest level. As a result, players graduating to Test cricket face a long hard struggle to come to terms with the intensity of the competition they experience at that level.
It is not so with countries like Australia, England, India and South Africa to name a few where their domestic first-class structure is so strong that players hardly feel the transfer from first-class to Test cricket. What Sri Lanka Cricket hopes to achieve is something similar on those lines. It has taken a long time for Sri Lanka to make the change, but it's better late than never. 
The tournament committee headed by Samantha Dodanwela, a former first-class cricketer with SSC, has been bold enough to go through with this change despite the fact that several of the member clubs will not be happy with the current structure as they know if they are relegated they will not receive the same amount of money they are currently receiving from the SLC for their expenses for the season, but much less when they play in the lower tier for the Governor's trophy. 
This present structure has been unanimously ratified by the SLC membership during an Extraordinary General Meeting held in August 2021. However, it could not be implemented last year due to the pandemic.
CCC are the current champions having won it on the last two occasions in 2019-2020 and 2018-19. They will commence the defence of their title against the strong SSC at the SSC grounds today. SSC will want to make an impact this season having fared rather disastrously the last occasion the three-day Major League was held failing to qualify for the Super Eight, and finishing fourth out of sixth in the Plate group.
The Runners-up of 2019-20 NCC will face Tamil Union at the P Sara Oval. Tamil Union are riding a crest of a wave having won three SLC Major inter-club titles in the past nine months, and will be keen to add another feather to their cap with the league crown.
Other matches commencing today: Ace Capital CC v Saracens SC at Bloomfield, Air Force SC v Navy SC at Katunayake, Army SC v Bloomfield at Panagoda, BRC v Police SC at BRC, Colts v Kandy Customs SC at Colts, Galle CC v Ragama CC at Galle, Kalutara TC v Kurunegala YCC at Dambulla, Moors SC v Lankan CC at Moors, Negombo CC v Badureliya SC at BOI Katunayake, and Panadura SC v Chilaw Marians CC at Panadura.
Groupings
Group A: CCC, Police SC, Ragama CC, Kandy Customs SC, Colts, Galle CC, BRC, Sebastianites, Moors SC, Kurunegala YCC, SSC, Kalutara TC, Lankan CC
Group B: NCC, Ace Capital CC, Chilaw Marians CC, Bloomfield, Army SC, Panadura SC, Saracens SC, Nugegoda SWC, Negombo CC, Navy SC, Tamil Union, Air Force SC, Badureliya SC