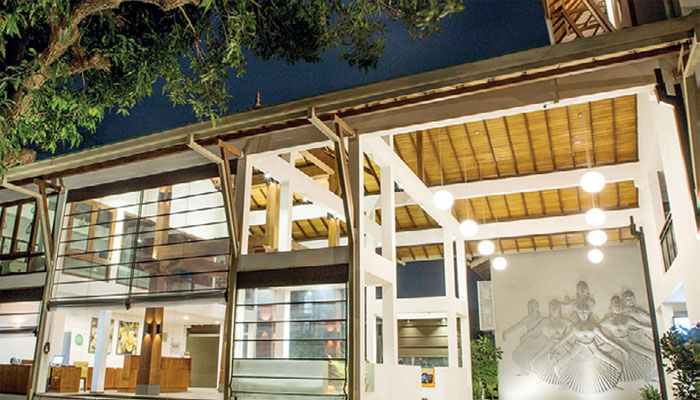 The Thinnai Hotel Jaffna
---
Plans to invest in third property in Jaffna with beach frontage with 30 individual villas
---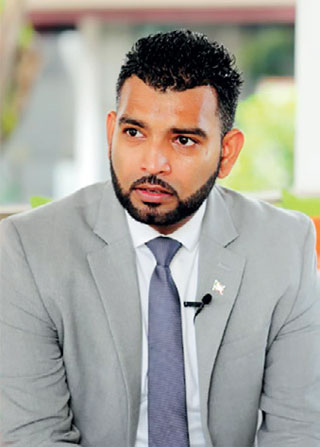 The Thinnai Hotel General Manager Janitha Madawala
---
The Thinnai Hotel Jaffna, the region's largest and only all-suite luxury boutique hotel, has opened after the pandemic again, maintaining all health guidelines and adding many new features. The management also plans to invest in a third hotel with beach frontage in Charti Beach, Jaffna, with 30 individual villas. 
Owned and operated by Thinnai Group of Hotels, a member of the St. Antony's Group, The Thinnai Hotel offers 39 luxury suits with 58 rooms including seven rooms with Jacuzzi as well. 
The Thinnai Hotel General Manager Janitha Madawala said that during the lockdown the hotel reinvested in several new areas to meet the new trends in the region. "We expanded our Saaral Pub by building a new open deck increasing its seating capacity from 28 to 92. The pillar-less banquet hall which is one of the largest in the area is one of our key strengths. We are now planning to increase and redesign it with a new expansion and entrance area. In addition, several other new refurbishments were done for the suites, Thulaa restaurant, pool and gym areas to keep the hotel in perfect shape, investing nearly Rs. 80 million. With the Palaly Airport reopening, we expect more local and international guests as even today The Thinnai Hotel is the first choice of diaspora visiting Jaffna."
Built on a five-acre land, the hotel has a large swimming pool, modern gym, several indoor sports facilities including a pool table and plenty of open spaces to relax. The hotel also offers a special package which includes the intercity train tickets pick up drop to the hotel and key excursions exploring Jaffna's cultural heritage and natural sceneries for both locals and tourists. The management also owns and operates Thinnai Organic, the group's agritourist hotel set on 10 acres of organic farm with a two-bedroom farmhouse, a farm room and tents.
Madawala, a graduate of Ceylon Hotel School and a fellow member of CHSGA with over 15 years working overseas including in the USA, Gulf, Europe and in cruise lines, said they would launch a mega international marketing drive from next year exposing the two properties as well as Jaffna peninsula to the world traveller. 
The hotel built with an investment of Rs. 900 million paid key emphasis on preservation of nature and environment and over Rs. 100 million was invested for the wastewater treatment plant.