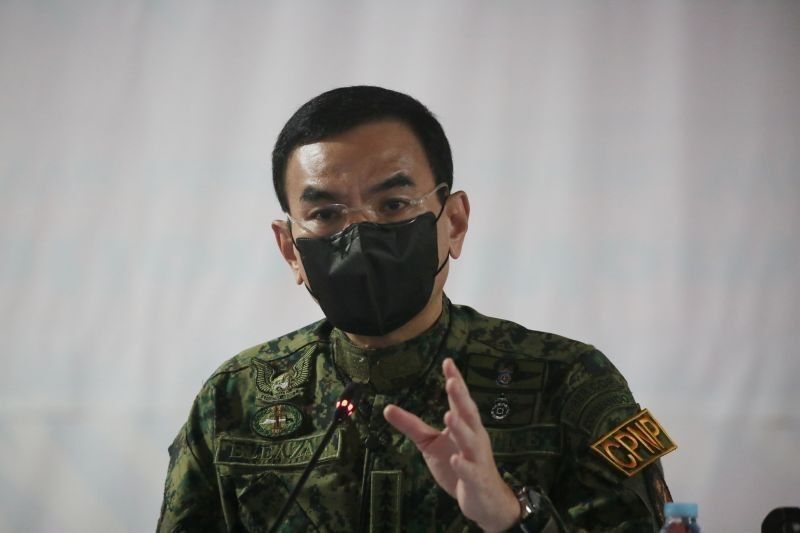 MANILA, Philippines — Philippine National Police (PNP) chief Gen. Guillermo Eleazar yesterday urged cause-oriented groups to conduct their Independence Day rallies online, as COVID-19 remains a threat to public health and safety.
The PNP chief said protesters should use Zoom and other social media platforms, instead of going outdoors where they are susceptible to COVID-19.?
"The situation is different now, let's be responsible and put health and safety first," Eleazar said in Filipino, saying that while the PNP respects the people's right to freedom of speech and expression, demonstrators must consider the threat of being infected.?
The PNP chief said the police remain on alert in anticipation of street protests in celebration of the country's 123rd Independence Day. He also reminded police to observe maximum tolerance but warned the law will be strictly enforced against those who "blatantly disobey minimum public health standards."
Bagong Alyansang Makabaayan (Bayan) secretary general Renato Reyes said various groups would hold a motorcade toward the Chinese embassy in Makati City to protest China's occupation of areas in the West Philippine Sea.
Fishers' group Pamalakaya, Anakpawis and youth cultural groups Sinagbayan and SAKA said they would bring a jet ski-themed float with effigies of President Duterte and Chinese President Xi Jinping.
"The jet ski-designed float will carry characters 'Du30 Traydor' and 'Xi Gin Pee' the evil puppet and master tandem who are trampling on the Filipino people's national sovereignty," the group said.
Wreath-laying
The National Historical Commission of the Philippines (NHCP) announced President Duterte would lead today's wreath-laying rites at the Bantayog of Marcelo and Gregorio del Pilar in Malolos, Bulacan.
NHCP said Duterte is set to lead the ceremonies at 4 p.m., joined by NHCP chairman Rene Escalante, Armed Forces of the Philippines chief Gen. Cirlito Sobejana and several local chief executives.
A conferment of the Order of Lapu-Lapu will be held shortly before Duterte gives his speech.
Simultaneous flag-raising and wreath-laying rites will be held at 12 historical sites nationwide. This year's Independence Day will be celebrated with the theme "Kalayaan 2021: Diwa ng Kalayaan sa Pagkakaisa at Paghilom ng Bayan."
WPS deployment
The Philippine Navy's second missile frigate, BRP Antonio Luna, will be deployed in the West Philippine Sea for its official maiden mission.
Rear Admiral Adeluis Bordado, newly installed flag officer in command, led the send-off ceremony at Pier 13 of Manila's South Harbor on Thursday.
The war ship, skippered by Navy Capt. Charles Merric Villanueva, will be deployed in Naval Forces West stationed in Puerto Princesa, Palawan that has jurisdiction over the West Philippine Sea.
Meanwhile, state-owned National Power Corp. announced it would switch on today its 300 kw power plant on Pag-asa Island. The diesel power plant will provide round-the-clock power to 68 facilities connected to the local distribution line.  – Ding Cervantes, Robertzon Ramirez, Michael Punongbayan, Ramon Efren Lazaro