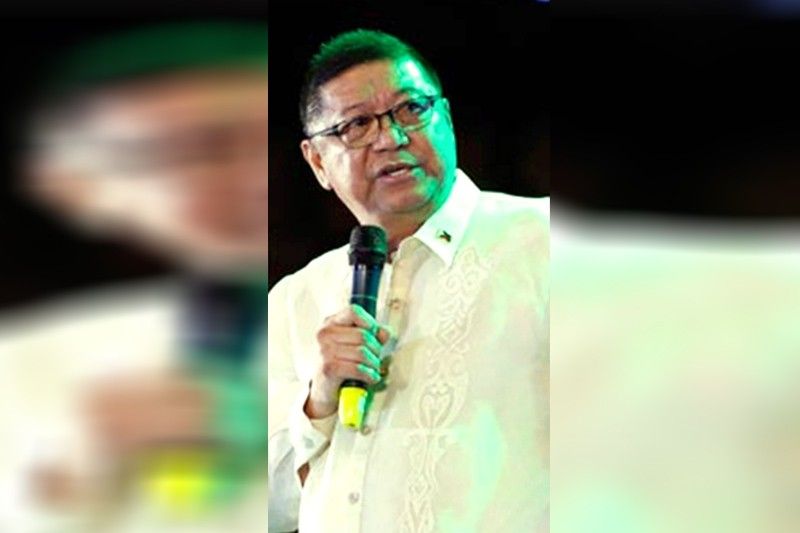 MANILA, Philippines — Time to shine.
There's an overwhelming sense of confidence as the Philippines' best and brightest take a crack at Olympic glory in Tokyo.
Officials feel real, real good about this campaign, anticipating Pinoy athletes to finally hit paydirt and end nearly a century of futile search for the Holy Grail of the quadrennial Olympics.
"Yes, it is appropriate to say that it is a golden breakthrough," said Philippine Olympic Committee (POC) president Abraham Tolentino.
"I hope so, our first gold medal, if not medals," said POC first vice president Al Panlilio.
Tolentino and his fellow sports executives have every reason to have faith in the 19-athlete contingent.
After all, the Tokyo Games batch are led by certified achievers on the global stage like gymnast Caloy Yulo, golfer Yuka Saso, boxers Nesthy Petecio and Eumir Marcial, pole-vaulter EJ Obiena and of course, 2016 Rio Olympics silver medalist Hidilyn Diaz.
"As I have said in my message to our athletes, we have assembled the best team we have," said Tolentino.
"In our pool of Olympians, we have world champions already," said Panlilio.
Philippine Sports Commission (PSC) chairman William Ramirez added the promising Tokyo group is also well equipped.
"This is the most ready, more exposed, and the strongest Philippine delegation to an Olympic event," said Ramirez.
"The Philippine government through the PSC funded these select Filipino athletes from the start; for the first time, the people's money has been spent for them.
And with the financial support we've extended, we hope we've prepared them for the biggest battle of all – the Olympics."
Former POC president and current boxing chief Ricky Vargas said barring injuries or illnesses, the athletes are primed for success.
"I think 14 of the 19 – or more than 50 percent of the team – have a chance of winning a medal. And some of them will be vying for our first Philippine gold in the Olympics," he said, citing Yulo, Saso, Pagdanganan, Diaz, Obiena, Petecio and Marcial as the brightest prospects.
"I'm very hopeful itong Olympics, huwag lang magkakasakit o ma-injure. I think the POC and PSC prepared them well, talagang binantayan nila itong athletes at sinuportahan."
The private sector support should also give the Olympians a big boost, noted Vargas.
Aside from backing the pre-Olympic sorties, sports patron Manny V. Pangilinan, through the MVP Sports Foundation, has earmarked P10-million for a gold medalist, P5-million for a silver and P2-million for a bronze – matching the incentive package of the government.
San Miguel Corp. honcho Ramon Ang pledged a similar windfall.
House Deputy Speaker Mikee Romero sweetened the pot further, adding P3 million, P2 million and P1 million.
"This is the tournament of tournaments. We want to showcase what Filipino talent can do, show the world that we can compete," MVPSF chairman Pangilinan said.
"When MVPSF was formed in 2011, the objective was to win our country's first Olympic gold and we have a really good chance to win medals in the upcoming Tokyo Olympics," he added.
The Pinoy bets are aiming for history at the time of the pandemic.
"Maybe the pandemic may even be a sports blessing since most of the countries have also trimmed down their athletes. It is now a real battle of who is the toughest during these times," said Tolentino.
Heads of national sports associations sending bets to the battlefield have no doubt their bets would deliver.
"Yes, this is truly the golden break we have been waiting for. I feel this is our year, as all our Olympians have a good chance to win and our sports leaders have given full support to our Olympians," said Gymnastics Association of the Philippines (GAP) chief Cynthia Carrion-Norton.
Of course, she's putting most of her hopes on Yulo, who is tipped to strike gold in his pet event — floor exercise.
"I feel we will hopefully get our first gold medal this Tokyo Olympics," she said.
Samahang Weightlifting ng Pilipinas (SWP) head Monico Puentevella said it will help our chances that the country has fielded its biggest delegation in decades.
"Nineteen heads are better than 12," said Puentevella.
Expectedly, Puentevella is banking on Diaz while also betting on Saso.
"With all due respect to the others, the best chances for me are Hidilyn and Saso. I hope I'm wrong and the others can pull the biggest surprise. In the Olympics, anything can happen and who knows," said Puentevella.
"This might be it," he added.
For Philippine Athletics Track and Field Association (PATAFA) president Philip Ella Juico, the country's participation here is victory in itself after having gone through the rigors of training amid the COVID-19 pandemic.
"Every Olympic competition is a breakthrough in the sense that we prepare hard for it and plan for it," said Juico. "The almost sudden but dramatic event was the pandemic that forced all teams to make adjustments."
The former PSC chairman said one example is Obiena, who showed laser-like focus in becoming the first Filipino qualifier to the quadrennial event.
"What makes Tokyo a breakthrough year was we had the proper doses of ingredients for success at the highest level: training at a world class facility under one of the world's best coaches and right number of competitions," said Juico.
He was referring to Ukrainian coach Vitaly Petrov and at least 15 high-level competitions Obiena had entered.
"Funding from PSC and private sponsors, including PATAFA officials themselves were there. These ingredients – coaching, facilities, strength and conditioning, competitions, additional and timely funding – were there. Not to forget was the monitoring done by us and EJ's parents and supporters," he said.