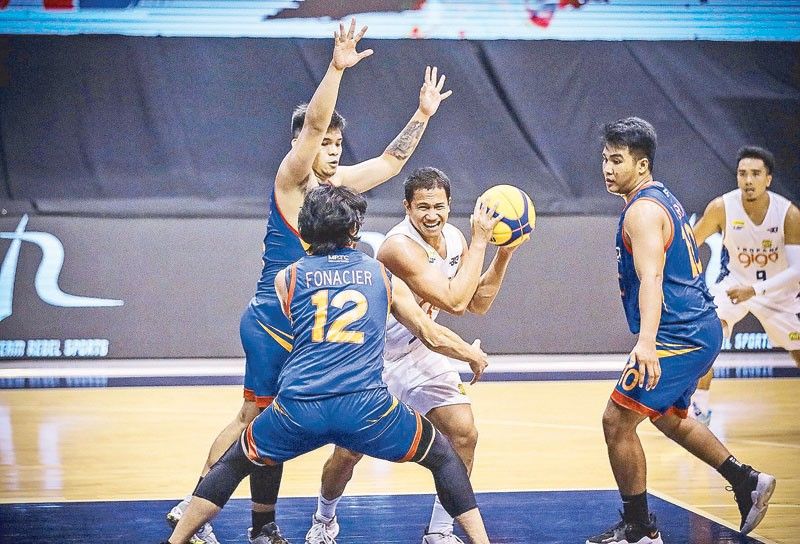 November 28, 2021 | 12:00am
MANILA, Philippines — Terrafirma stole the thunder from the big guns, going 3-0 in Pool A to seal its quarterfinal seat in the PBA 3×3's third leg yesterday at the Ynares Sports Arena in Pasig City.
Dyip quartet Terrence Tumalip, Dhon Reverente, Matt Salem and Jebb Bulawan outduelled Leg 2 winner Meralco, 22-18, to gain momentum for a hot Day 1 run that assured them of a third straight Last-8 appearance with an elims game to spare.
Reverente banged in a clutch two-point play while Bulawan connected from the deep as Terrafirma touched things off with the morale-booster against the Bolts' Anton Asistio, Alfred Batino, Dexter Maiquez and Joseph Sedurifa.
Tumalip then took charge with seven points as Terrafirma followed up with a 17-14 victory over Pioneer Pro Tibay before Salem rifled in five two-balls to spearhead a 21-11 drubbing of NorthPort.
Terrafirma guns for a four-game sweep of the elims today against the Zamboanga Valientes before vying in the knockout rounds.
Pioneer's Gian Abrigo, Carlo de Chavez, Carlo Escalambre and Christian Rivera ran second at 2-1, chalking up their wins at the expense of NorthPort, 21-17, and the Valientes, 20-12.
The Bolts quickly bounced back with a 21-8 rout of Zamboanga to improve to 1-1.
Sista Super Sealers and Limitless App got off to victorious starts in Pools B and C, respectively.
Leo de Vera fired 11 points to carry Sista teammates Prince Rivero, Kenneth Mocon and RJ Argamino to a 22-19 triumph over Leg 2 runner-up Platinum Karaoke. After opening with a 21-15 beatdown of Ginebra, Platinum slipped to 1-1. The Gin Kings caught up at 1-1 after rallying past San Miguel Beer, 21-20.
Limitless' Brandon Rosser, Marvin Hayes, Reymar Caduyac and Jorey Napoles beat Leg 1 winner TNT, 21-16, in a game where the Tropang Giga had only Almond Vosotros and Samboy de Leon playing in the last 8:54 with Jeremiah Gray hurting his knee off a dunk early on.
TNT's fourth man, Lervin Flores, sat out yesterday's action due to separate one-game suspensions slapped by the PBA and team management for his hit on Gonzaga in the semis of the second leg.
Before the Limitless match, the Flores-less Tropang Giga took care of business in their opening match against Cavitex, 20-17.