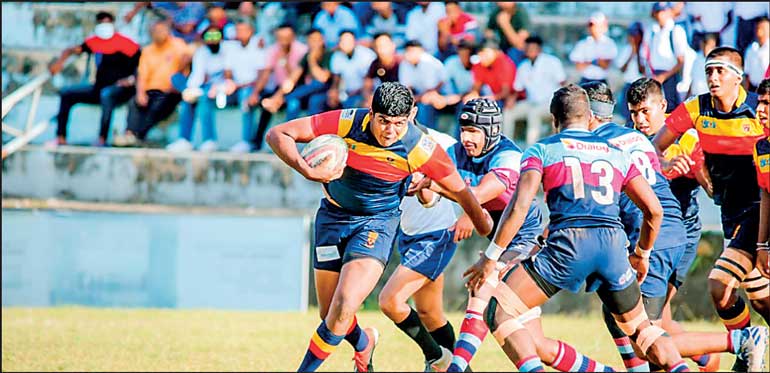 Trinity will go through some tough times in Colombo in their Royal encounter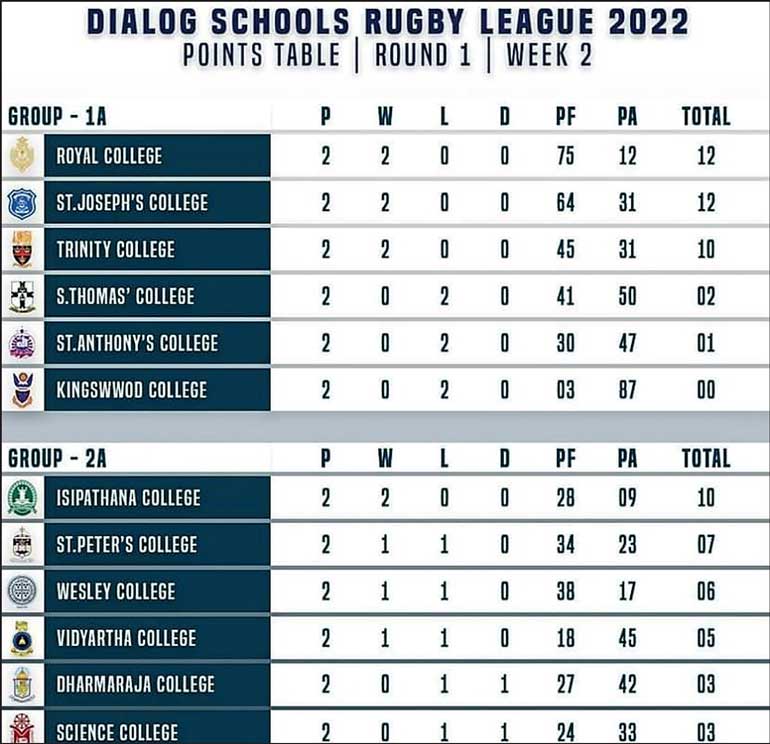 By Shamseer Jaleel
---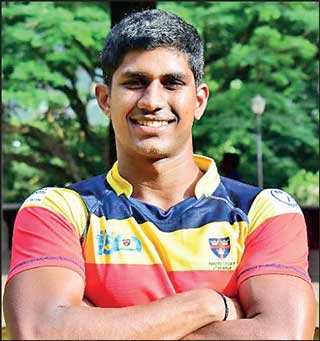 Lithmal Moragoda leads Trinity Rugby outfit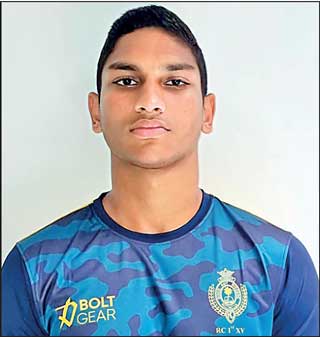 Royal skipper Harshith Peiris
The defending Schools League champions and currently one of the unbeaten teams, Royal College will host Trinity College in their Dialog Schools Under 20 Rugby League encounter at the Royal Sports Complex on 8 July. Kickoff is scheduled at 4.15 pm.
Royal will be playing their third home game this season, having beaten Antonians 22/12 and Kingswood 53/0 in their earlier two outings. Royal will be led by Harshitha Peiris with Kaveen Saranga being his deputy plus some outstanding senior players. 
They are all out to continue their winning streak plus to retain the league for a record four years in a row. They are coached by Dushantha Lewke with Radhika Hettiarachchi being his deputy in the coaching unit.
Meanwhile, Trinity will heavily depend on their speedy three-quarter line. Aattab Manzil, Abdul Kaleel, Lithmal Moragoda and Kovida Wickremasinghe are their star players. Kovida will support the team with his touch kicks to gain territory plus his kick at goal being very accurate so far this season. 
Furthermore, Loshika Wijekoon, Kaveesha Edama, Zeshan Zakeer and Shabith Rasheed will be the players to watch from their forwards. Trinity so far won their two encounters against Thomians 20/12 played for Canon de Saram Shield and the Antonians game 25/18. Trinity is coached by Kavinda Jayasena with Thusitha de Silva assisting him. Playing in Colombo and on current form, Royal hold a slight edge over the lads from the Central Hills.
Referee Diulm Deeshana
 Peters to bounce back
St. Peter's College, smarting from their defeat last weekend in Kandy against Vidyartha, will be firing all cylinders in order to over-come the spirited Science outfit on 9 July at Ratmalana.
St. Peter's beat Dharmaraja in their opening encounter due to a superb second half effort. Meanwhile, the lads from Mount Lavinia went down to Isipathana in their opening encounter but bounced back to end on equal terms against Rajans up in the Hills.
Referee Aaqil Jamaldeen
Green Shirts to continue winning form in the Hills
Unbeaten Isipathana College will be under lot of pressure when they lock horns with the high riding Vidyartha College at the Bogambara Stadium. If the game is played under wet conditions, the lads from Havelock Town could go through some tough moments.
Isipathana overcame Science and Wesley in their first two outings while Vidyartha were convincingly beaten by Wesley in Colombo but came back strongly to beat title contenders, St. Peter's College last weekend in Kandy. Isipathana is led by Dahan Wickramarachchi supported by his deputy, Praveen Stefan, Venura Kodagoda and Tharindu Sandaruwan. They are coached by Saliya Kumara.
Meanwhile, Vidyartha is led by Arosh Rathnayake well supported by Kavishka Wijeratne, Kalana Sathsara, Deshan Balasooriya and Menuka Madusha. They are coached by Nalin Wijesinghe.
Dahan Wickramarachchi well supported by his deputy, Praveen Stefan, Venura Kodagoda, Sooriya Dodangoda and Tharindu Sandaruwan. Head coach Saliya is also one of the best educated coach in the schools and is also the National Women's sevens Coach.
Referee Ishanka Abeykoon
Thomians out for their first win
 Thomians led by crack No. 8, Chariya Kurukulasuriya will be in the Central Hills for the second time this season when they lock horns against Kingswood College at the Nittawela Rugby Stadium on 10 July.
Kingswood is one of the weakest sides in the league and will need to put up a good performance if they are to pull it off but a win for them looks highly unlikely . They lost out to Joes 34/3 and Royal handed them off 53 to nothing. 
Meanwhile, Thomians had two good outing though ending on the losing side. They lost out to Trinity 13/20 and edged out by Joes 28/30. Others in the Mount Lavinia outfit to be looked forward are fly half, Yehan Bulath singhalage, Shenal Fernando and Viyan de Silva. Thomians are coached by one of the best and most experienced reader of the game, Shamly Nawas.
Meanwhile, the Randles Hills outfit is led by Randila Ranaweera supported by Eshara Dissanayake and Imanka Ishara. They are coached by former Isipathana and Kandy SC player Buddhika Thalagampola.
Referee Kelum Sandaruwan
Wesley out for a win
Wesley College, the "Dark Horse" of the tournament, will be out for their second win when they lock horns with Dharmaraja College in their third outing this season.
Wesley beat Vidyartha 38/7 but they ended on the losing side against the tough Green Shirts last weekend. They are led by Tharusha Jayaweera these lads were the Under-16 All Island champion outfit three years back. Meanwhile, Rajans will have Co-captains this year led by both Saumya Wijesiri and Thenuka Wickremasinghe with Dilshan Sasanka and Anjana Ellegonna to support them.
On form, Wesley should register their second win this season.
Referee P. Weranga
Joes to continue winning streak
Joes will be all out to continue their winning form when they lock horns with the Antonians. Joes beat Kingswood 34/3 and edged out Thomians 30/28. Meanwhile Antonians had two close calls ending on the wrong side against Royal 12/22 and Trinity 18/25.
Teran Karunanayake will lead the Darley Road outfit with Nilfer Ibrahim as their Head Coach. Meanwhile, Antonians will be led by Jeyan Amarasinghe while Sumedha Malawana will coach the outfit. Joes should have things their own way.
Referee Raveen Alexander
Royal vs Trinity at Royal Sports Complex
Science vs St. Peter's at Ratmalana
Vidyartha vs Isipathana at Bogambara
St. Joseph's vs St. Anthony's at Havelock Park
Dharmaraja vs Wesley at Nittawela
Kingswood vs St. Thomas at Nittawela